October 22, 2014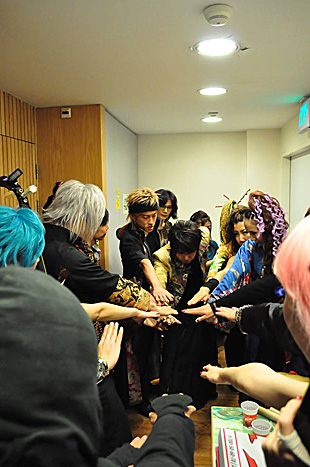 Haifa, our first performance in Israel.
Haifa is a beautiful city built on the slopes of Mount Carmel where the prophet Elijah from the Old Testament was active. It is a vacation destination just like many of beach towns in Southern California. Haifa is located on Israel's Mediterranean coast and is a two-hour drive north from Jerusalem where we were staying. Generally speaking, in Japan we have the preconception that the countries of the Middle East are deserts and filled with conflict; however, Haifa completely proved that wrong.
Tikotin Museum of Japanese Art, in Haifa, is the first and only museum in the Middle East dedicated exclusively to Japanese Art. It was established in 1959 by Felix Tikotin, a Dutch Jew who loved Japanese culture and also by the then mayor of Haifa, Abba Hushi.
We entered Haifa with a sense of awe as it was not only the stomping ground of the prophet Elijah, but also was home to Tikotin Museum of Japanese Art which serves to preserve Japanese culture in the distant land of Israel.

Our shamisen duo, KiKi, joined us as they had arrived the day after us, and at last, all the band members were together for the tour. Haifa is one of the prettiest resort areas in Northern Israel, which makes it hard to believe that it has a religious history. Also, there is the Japanese art museum which is dedicated to promoting Japanese culture. All that said, this made our first night in Israel memorable when we unveiled ourselves at the museum.
Not being in a metropolitan area, but in a resort area like Haifa, we wondered who would come to a concert by an unknown band. In addition, there was an admission charge, where on the other hand, Japan Week in Jerusalem was a free event.
The venue wasn't all that big with a little over 100 seats. In spite of the fact that it was a small, we were still anxious about whether or not anybody would come, and we could end up performing in front of just a few people. That would have been sad. However, incredible news came from our assistant, Natsuko, who said, "More than 100 tickets were already sold." We said, "Really? Are you sure? Here in Haifa, people bought tickets and are coming??"
Marre, the leader of the group, was excited yet had a bewildered look on his face.
We didn't know what to expect from our first performance in Israel. There were some people who actually bought tickets. This fact alone deeply moved us. Finally, the first concert of our tour in Israel kicked off.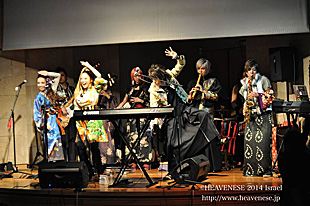 1. Code of the Samurai
This song usually opens our performances in Japan. The vocalists appeared on the stage during the second half of this instrumental song.
2. You are Good.
With this being a 60-minute show, we restructured our usual longer performance and started off with "ohayashi" (Japanese musical band) instead of our usual rousing opening number, which turned out to be a good choice as we were told the ratio of middle-aged and older people was high in this crowd.
3. Greeting
Where ever we go, whether in Japan or overseas, Marre says, "Doe-yo?"(How's it going?) He encourages the audience to respond to this by saying aloud, "Ee-yo" (Good).
Despite the general age of the audience, the response was great and created a sense of unity between the band and the audience.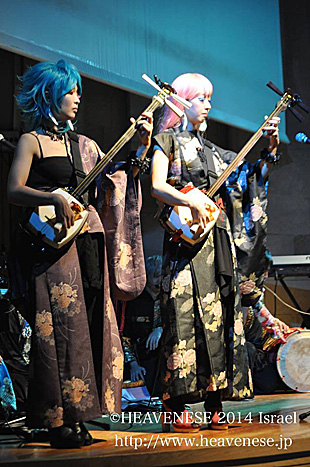 4. Tsugaru Shamisen Duo
Our shamisen players' parents were concerned about them going to Israel, yet they went nonetheless. The foot of Mount Carmel resounded with their dynamic sound.  
The audience was being drawn in by the unfamiliar sound of the shamisen and its Japanese spirit.
5. Taiko Duo (Japanese Drum)
Ikki, our drummer, was filling in for one of our primary taiko players and put in a lot of time and effort getting ready for this tour. Even though he is not an acclaimed taiko player, yet by the time our first performance in Israel rolled around, he was able to accompany our other primary taiko player, Lue.  This all started with a question, "Ikki, would you practice the taiko for the Israel tour?" With this request our Taiko Duo became a reality.
6. The Place Before I was Born
This song was the single we released in 2014 and became a signature song. As usual, it was accompanied with pictures that gave a digest of Japanese history. We chose to sing this song in Japanese because we felt that the Israeli people with their long history behind them would be able to perceive the significance of our heart for tradition. Even though they didn't understand the Japanese lyrics, we believe that we were still able to connect with them through the music. Even though it was sung in Japanese, they gave us rousing ovation.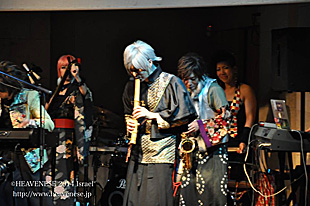 7. Silk Road
"Silk Road" is our definitive song and is about the fascinating history of the ancient Israelites who traveled the Silk Road, ultimately reaching Japan.
There must have been severe tribulation to push them farther East in order to escape the persecution. The intensity of that trip is beyond our imagination. Marre shared his insights on this historical account. How did it resonate in the people's minds? They were well aware of the Holocaust, fleeing from persecution, and establishing their own country in Middle East. The audience intently listened to this song. After the song was finished, we received a thunderous round of applause.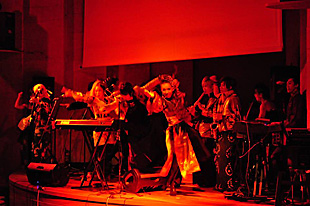 8. Lift
"Lift" is our trademark Andrae Crouch song as he produced it. This song has a strong Gospel choir feel to it. Over the last several years, our shows have ended with this song. Cheers and ovation filled the venue, and immediately there was a call for an encore.
9. 3N1 (encore)
The audience welcomed us back on the stage for the encore with exuberant applause.

Playing this song at this museum was one of our greatest aspirations on this tour.
Several months ago, when it was finalized that we were going to Israel, the first thing to come to mind was the issue of taikos. Where would we get them? In general, the cost of transporting taikos is high so sending them from Japan was out of the question. In the U.S. we could rent taikos, but we had no idea where we would get them for our tour in Israel.  Therefore, we were about ready to give up on the hope of playing 3N1 during our tour in Israel.
That all changed when we received a call from the Embassy of Japan in Israel. They said that they could somehow arrange for taikos to be available for us to use during our time in Israel, and on top of that, there was exactly the number we needed. To our amazement, it was at Tikotin Museum of Japanese Art in Haifa where the taikos were kept. Those taikos were donated 10 years ago and had never been used. Through the connection with the Embassy of Japan, the taikos were free for us to use under one condition that we perform at the museum.
That night's concert came about because of this story. 
With these being the only taikos in Israel, they are very dear to us and seemed to be there waiting just for us.
Because of the taikos, the door was opened for us to perform at the Japan Week welcome reception party. Without them, our Israel tour would have been completely different. For us, we went to Israel as if to see our dear children.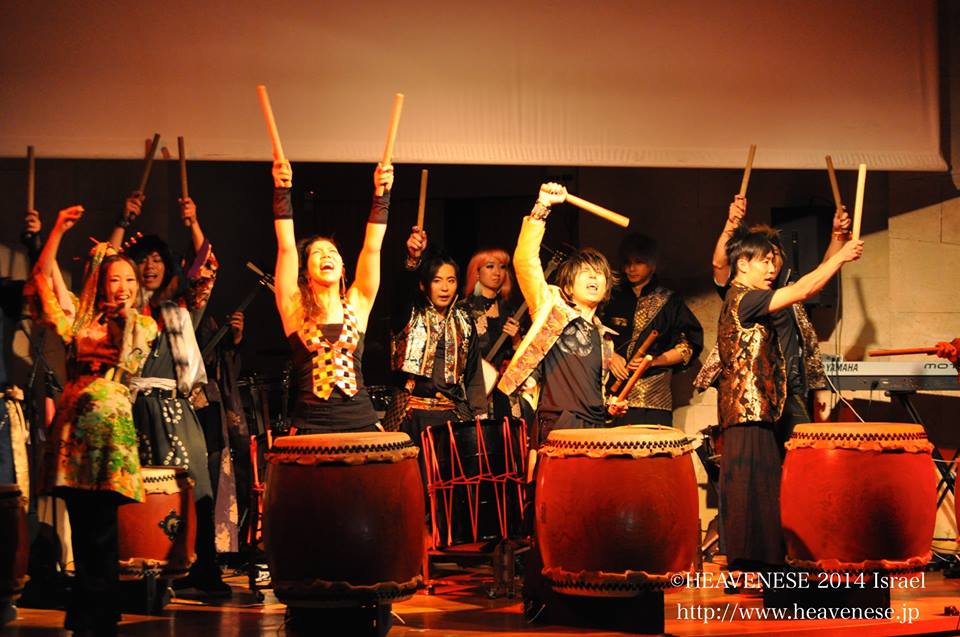 After our taiko performance, we received even greater applause.
It seemed the people were wildly excited about our performance.

After the show ended, there were many people who engaged us in conversation, sharing their family's history of the Holocaust, how much their forefathers had suffered, and why their family had moved to Israel. This was because they were touched by the story that Marre shared during "Silk Road". Someone even singled out the song, and excitedly said, "'Silk Road' is such a powerful song"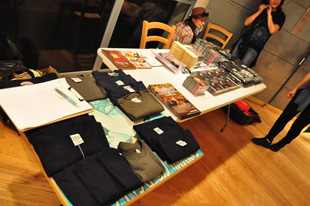 Needless to say, there were young people there who had never experienced persecution first hand. They also excitedly sought us out to tell us what they thought about the performance, to ask for autographs, to take pictures with us and to buy our CDs. They had the same welcoming smiles as those in Los Angeles, Kansas City, and New York.
Our first performance in Israel came to an end and was a great success.
This success gave us confidence that all would go well in Israel, and with that, we called it a night and headed to our hotel.