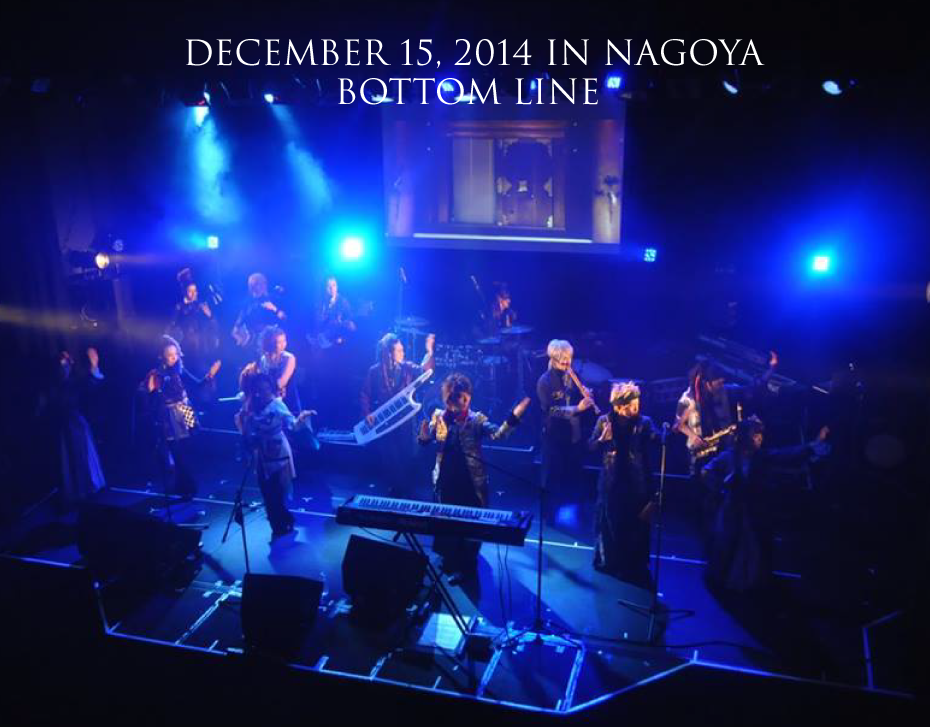 The New York live house, Bottom Line staked its place in history during the 1970s.
Nagoya Bottomline adopted the name through a licensing agreement with NY Bottom Line and has become a distinguished live house in Nagoya. It has hosted numerous great artists since the 1990s. This was a memorable venue for the first performance of HEAVENESE's national tour. HEAVENESE's performance was a great success in New York last year as this venue befits HEAVENESE.
Bottomline's manager, Mr. Sugimoto and his staff were wiling to support HEAVENESE by displaying the posters and assembling flyers to pass out. Seeing the displayed posters from our bus as we arrived in Nagoya fired up all our band members after the long trip from Tokyo. This is one of the real pleasures of being on a national tour.
One of the shamisen players, Kanami, is from Nagoya. Her family and classmates came to see their home grown girl as a member of a band that is active worldwide.
The day before the show, while passing out flyers on the street, there was a person who took a flyer and said, "This looks interesting", and he ended up coming. To say the least this encounter was very uplifting, and was one of many sub-stories from Nagoya.
1.Code Of the Samurai
Creating a mysterious ambiance, HEAVENESE's performance started off in the stillness and quiet of the Japanese spirit.
Tsukasa Kadota, the leader of the ninja group, appeared on the stage dressed as a samurai.
His gestures and movements expressed Bushido( the code of the Samurai).
The samurai warrior Tsukasa took off his mask and battled with ninjas.
This battle embodied loyalty. The dignity of the masters from Owari-Nagoya (who unified the whole country) could have been reflected this battle.
2.ALL OF ME
3.You are good
The ambiance changed completely from stillness to motion. The first two songs were upbeat to engage the audience by removing the sense of distance. This has been working well everywhere HEAVESE has performed as if victory goes to the one who makes the first move. It is not too much to say that the opening songs could determine the rest of the show.
4.Mighty Wind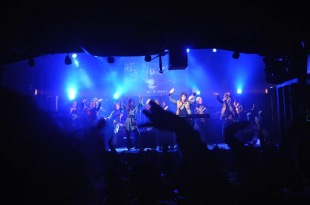 This song portrays their experience at Kazahinominomiya at Ise Shrine.
HEAVENESE made Nagoya "a home away from home". Marre even strengthened the sense of unity through his talk. In his talk he started off, "Speaking of Japan, is to visit Ise Shrine..." The people in Nagoya, like at other locations, also joined in the choreographed dance, and everyone felt oneness in the venue.
5.Rendezvous
This song was inspired by a story of a courtesan who killed herself in despair during the Tokugawa Edo era.
The first performance of this song took place at Roppongi Blue Theater in July and was a big hit.
Bewitching illuminating radiance rose to the surface of the classic style Bottomline stage.
HEAVENESE's female members, notably the Araistyle dancers, solely performed which was a first for HEAVENESE.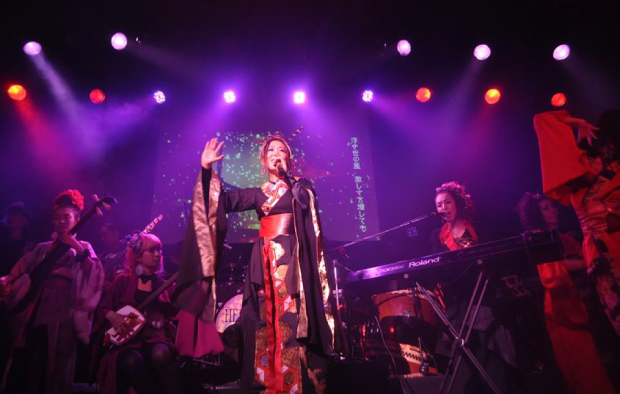 Tsugaru Shamisen Duet and Ninja Acrobat Team
Our shamisen pair who captivated audiences overseas came back triumphantly.
Dueling shamisens was created by HEAVENESE's choreographer, HIDETOMO. This is becoming firmly established as their style.

There is an opinion in the entertainment world that people in Nagoya are difficult to perform for (they don't like new things). Is that really true? Ninja acrobats were flying around the small stage; everyone was excited and cheered.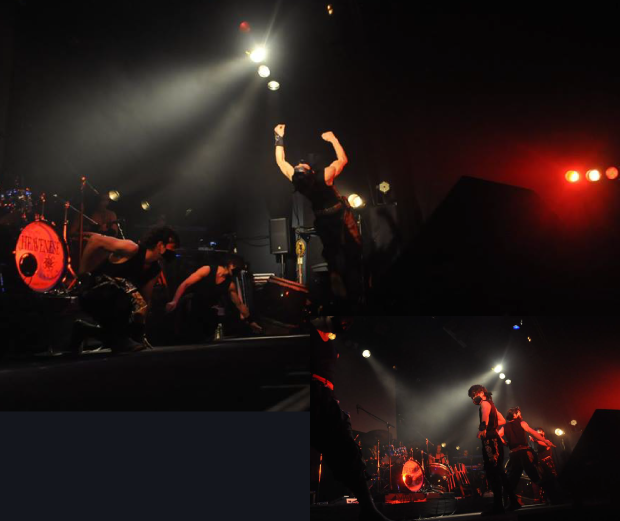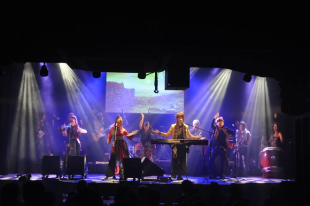 6.Mi'Ma'amakim
HEAVENESE's new song, Mi'Ma'amakim, was unveiled in Nagoya.
Mi'Ma'amakim, a hit song in Israel, is refreshing, yet the melody is nostalgic. Everyone listened to it. This was a historic moment which would lead to the ignition of this tour.
One of the draws of HEAVENESE' performance is Marre's history lesson which is deeply related to the place where they are performing.
The spirit of this area's noblest men from ages past is remembered and when combined with HEAVENESE' music, weaves the threads of the Japanese Spirit.
That day, Marre spoke about a Japanese businessman known as "the Father
of Nagoya's Development", Momosuke Fukuzawa who was involved in large-scale projects.
Following this talk was HEAVENESE' defining song, "The Place Before I was Born" making it exactly like our regular Wednesday night talk event, HEAVENESE BRIDGE.
HEAVENESE offers entertainment yet with an educational aspect to it, demonstrating true "edutainment" and the worth of it.
7.The Place Before I Was Born
HEAVENESE's 3rd single, has been featured on a popular CBC radio show. The show's host, DJ Boinorio, said, "This causes me to think about not just Japan but also Asia". This was interesting to hear as Tokyo MX TV president said something similar. With the Silk Road running through Asia, and that being HEAVENESE's second single, there is a connection between these songs which takes us back in time through a shared worldview. This song brought forth a big miraculous scene the day after the show.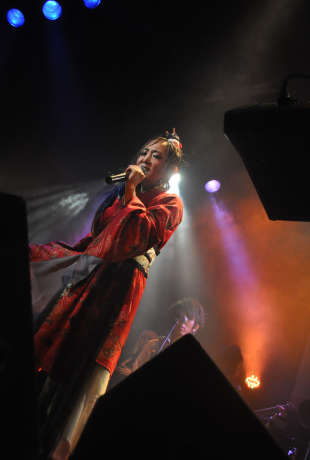 8.Blessings
Their label producer, Sheila E, sang this song a while ago when she visited them in Tokyo, and they arranged it with the HEAVENESE flavor. This song was a popular contemporary Gospel song in the U.S. a several years ago. It was first performed by Kumiko in July at the Roppongi Blue Theater. Facing difficulties and trials in life yet finding hope is the message of the Gospel and this song. Kumiko sang it in English with the lyrics displayed for the audience, touching everyone in attendance.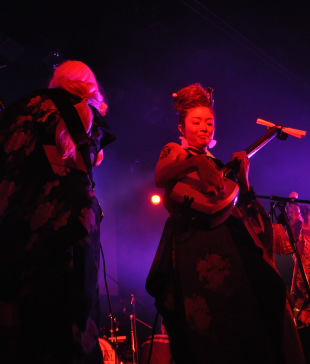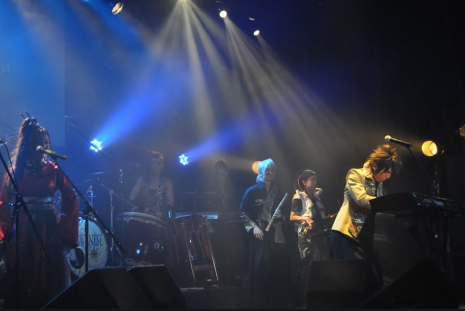 9.Together
Marre's old song was put to new lyrics and life. This song made a strong impression with a powerful message. It followed Kumiko.FN"s solo which also delivered a strong message to emphasize their point. The different types of vocals make it possible to create a dynamic performance and expand the variety of songs.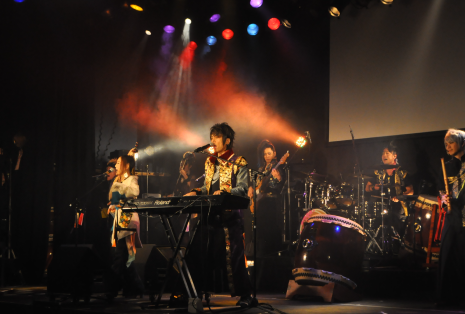 10.LIFT
The end of the show was approaching and while the audience was completely relaxed the last upbeat song, LIFT, was played. One week ago they were apprehensive about how many people would come to their show. There was no need to worry.
This scene of a lively festival caused them to think that they could step up to the next level in Nagoya in 2015.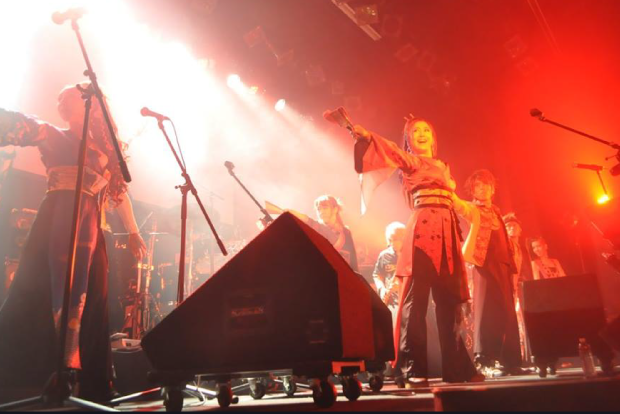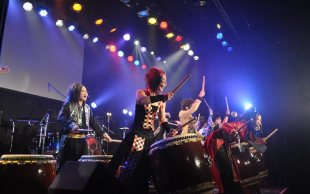 Encore 3N1
Regardless of the absence of one of their main taiko drummers, Makoto, it was nicely done.
The sound of the taiko echoed in the hearts of the people both in Israel and the United States and in Nagoya it was no different.
People came to see the show from the suburbs of Nagoya. A Hebrew language professor came from Gifu prefecture and was deeply impressed by the Israel tour report.
Nagoya which is located between Tokyo and Osaka, has a unique presence in the world of Japanese pop culture. Owari-Nagoya is a historic site which influenced the nation, from which could remain some influence in the entertainment world.
This performance in Nagoya and the first on their tour embodied a calm and mature ambiance for adults. HEAVENESE was able to perform from the center of the world, Jerusalem, to the center of Japan, Nagoya.
Once again HEAVENESE would liker to express our great gratitude to all who came, the staff of Nagoya Bottomline, and all those who helped make this show possible.